Kang Min-Seok acquired a bachelors in fine arts in 2007 at Dong-A University in Busan, South Korea; followed by a masters in 2010.
He states: "I am on a journey of deep self-exploration through art. I delve into the complex layers of my inner being, earnestly seeking to understand myself. At the core of this exploration lies the symbolic theme of a running car, encapsulating our ever-evolving thoughts and perspectives along the passage of time. Through various experiments and creations, I strive to capture the dynamic form and explosive speed of a running car, unveiling the hidden stories within."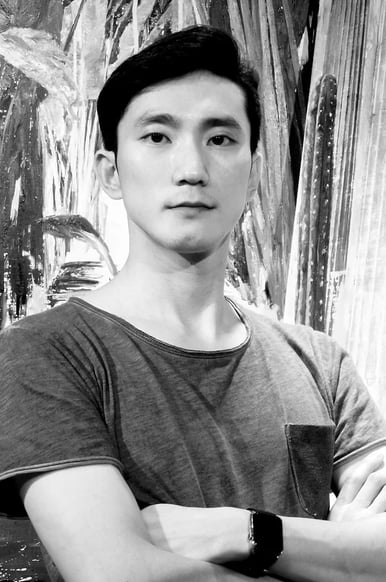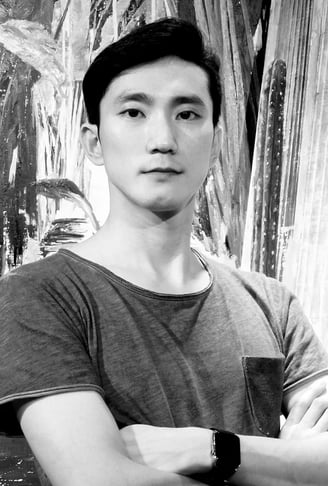 Kang Min-Seok 于 2007 年在韩国釜山的东亚大学获得美术学士学位;随后在 2010 年获得硕士学位。
Min-Seok 说:"我正在通过艺术进行深度自我探索的旅程。我深入内心深处的复杂层面,认真地寻求了解自己。这一探索的核心是一辆正在行驶的汽车的象征性主题,它包含了我们随着时间的推移不断发展的思想和观点。通过各种实验和创作,我力求捕捉行驶中汽车的动态形态和爆发式速度,揭开其中隐藏的故事。"
Kang Min-Seok 은 2007년 한국 부산의 동아대학교에서 미술 학사 학위를 취득했습니다. 이어 2010년 마스터스.
그는 말한다: "나는 예술을 통해 깊은 자아 탐색의 여정에 있습니다. 나는 내 안의 복잡한 내면을 파고들며 진정으로 나 자신을 알아가고자 합니다. 이 탐색의 핵심에는 시간의 흐름에 따라 변화하는 우리의 생각과 시각을 담은 달리는 자동차라는 상징적인 주제가 있습니다. 다양한 실험과 창작을 통해 나는 달리는 자동차의 동적인 형태와 폭발적인 속도의 힘을 포착하고, 그 안에 숨겨진 이야기를 드러내려 노력하고 있습니다."
Past Exhibition:
2015 "Contemporary Nomadic Artists"14people, Crude Creatures Contemporary Art Gallery, Chicago
2015 "Zambia African children donated free rides around" 3 artists, YEDONG Gallery, Busan, South Korea
2015 "Flaky May" 3artists, Gallery Mare, Busan, South Korea
2014 "Ideally reality" 4artists, Namu Gallery, Busan, South Korea
2013 "Young Artist Contest" AHAF Seoul 2013 Estimation, Geumsan gallery, Seoul, South Korea
2012 Group "Sang" Exhibition, Jungjunho Gallery, Busan, South Korea
2012 Group "ON" Exhibition, Picasso Gallery, Busan, South Korea
2011 38th DongMac exhibition, BS Busan Bank Gallery, Busan, South Korea
2011 Dong-A stepping stone painting exhibition, Catholic Center, Busan
2011 Dong modern printmaker Association, Harbor Gallery, Busan, South Korea 2011 Group "ON" Exhibition, Fine Gallery, Busan, South Korea
2011 ₩100.000 happy picture showing, MAC Gallery, Busan, South Korea
2011 Exhibition of Contemporary Art 100 South Korea and Japan, Ginza Gallery "ARTIST SPACE", Japan
2011 Busan printmaking "Fresh & Wide", Busan City Hall, Busan, South Korea
2011 "Trojan Horse" exhibition, Banana Long Gallery, Busan, South Korea
2011 Artist Project8, Pukyong National University and Busan Cultural Foundation, Deokcheon station, Yearsan Station, Busan, South Korea
2010 Group "ON" Exhibition, Picasso Gallery, Busan, South Korea
2010 South Korea China Japan International Artists exhibition, Hukooka Prefectural Art Museum 1st Floor, Japan
2010 Movie Art Shop, Banana Long Gallery, Busan, South Korea
2010 Bujang Market Market Integration - Biennale cafe project, Bujang Market Cafe, Busan
2010 100 Korea Japan Contemporary Art Exhibition <reason to must change>, Ginza Gallery "ARTIST SPACE", Japan
2010 2010 Korea Japan Contemporary Art Exchange Exhibition, BumiART Gallery, Busan, South Korea
2010 Ets Heim 2.0, Medison center, Seoul, South Korea
2010 EXIT, Doosan We`ve The Zenith Gallery, Busan, South Korea
2010 'Relax (休展)', Banana Long Gallery, Busan, South Korea
2010 Young Artist 2010, Priden Gallery, Busan, South Korea
2010 life & survival images, KUMHO Gallery 3, Gwangju, South Korea
2009 33 young Artists, Design center Busan Exhibition Ⅱ, Busan(BSCF), South Korea
2009 Situation direction 09, Art Spectrum Curator Invitation, Harbour Gallery, Busan, South Korea
2009 Contemporary Art & Vintage Art No.2, Gallery young, Seoul, South Koreaa
2009 Coordinates of oblivion 2 person, samcheong Gallery, Seoul, South Korea
2009 Asian Students and Young Artists Art Festival, Kyongbok Palace, Seoul, South Korea
2009 Group star (Open Memorial, Jungwoo Gallery), Jungwoo Gallery, Seoul, South Korea
2009 7th BIEAF, BEXCO, Busan, South Korea
2009 CO-CORE Internation Art & Desing Critiques, TOKYO, Japan
2009 SOAF EMERGING ARTIST CONTEST, COEX, Seoul, South Korea
2008 South Korea China Japan gurup 3rd international artists Exhibition, Narana Gallery, China